Yesterday was an amazing day, snow shoeing in the mountains. Mark & I started from the village of Pralognan where we took 2 chair lifts up the mountain to Pont de la Gliere. It was a cold overcast day with winds blowing up to 40km/hr. We started at just over 2000m and climbed steadily upwards towards Le Grande Casse. Despite the weather we had quite good views back down the valley and over to Courcheval.  Climbing at these altitudes is hard work. We took it very slowly, getting a bit of respite as we crossed over Lac de Vache, before heading upwards again. Just as we reached the lip of the col, a bearded vulture flew low over our heads. It was very close and we could clearly see its striking markings and rusty pink plumage on its chest; it has an impressive wing span of 2-3m!
Once over the lip of the col it was a steady walk past the Glazier des Grands Couloirs on our left, to the refuge on the Col de la Vanoise. We had a very simple but warming lunch of soup and bread. The refuges are very sociable places, with walkers & mountain skiers dropping in all the time.
Mark does some great summer walks in the mountains staying at the refuges; The scenery in the Vanoise National Park is stunning, and it would be great to walk in the summer and get another perspective of this amazing countryside – one to add to the list!
After lunch it was down! The weather came in a bit as we left the refuge making the slopes very flat, but still on a high I had a huge smile on my face all the way! In snow shoes you just walk straight down the slope, there is a bit of slip on the softer snow, but they are much easier to control than skies!!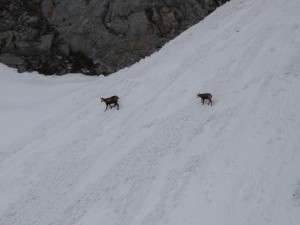 Just past the Lac de Vache we stopped and were lucky enough to see to see a small group of chamois crossing the slopes, they are smaller than Ibex, and have much less impressive horns. It was good to see some more of the native wild life, I think the only thing missing from the list was wild boar!
Once we got back to the Pont de la Gliere, we stopped for a beer! It was great to chill out and enjoy the mountains. We had walked 500m over 4km (up and down). I found it hugely exhilarating.
This is definitely one of my favorite places; I have really enjoyed exploring the mountains, the peace & quiet away from the crowds and the simplicity of the refuges. Snow Shoeing on the slopes is not an easy option to skiing. It can be very physical – there are no lift breaks, but it has ticked all the boxes for me, and I think it is now my winter sport of choice!
Share
Facebook
GooglePlus