On Sunday 5th May I participated in my 5th challenge – The Sarsen Trail, Neolithic 50km  cycle ride across Salisbury Plain, starting & finishing at Stonehenge. This was a massive event organised by The Wiltshire Wildlife Trust, which included running, walking and biking events. Trevor and I cycled the 50km route (unfortunately Neil had to drop out on the day), whilst Heather organised a group of people to do the 15 mile walk. The weather forecast was good, an overcast start with blue skies and sunshine by lunch time!
Having mainly trained on a hybrid bike with no suspension, I was very pleased to be able to borrow a Marin mountain bike from Kate Henshaw, with front suspension. This made the ride less hard going on the arms (and teeth!). The countryside up on Salisbury Plain is stunning, and we were lucky enough to have a clear day, so the views were amazing. The first half of the route seemed to be more up than down! Their were long dragging ups with short steep downs …. the fastest speed tracked on the endomondo app on my phone was 34 mph! I have to be honest, and admit this was almost certainly Trevor's speed rather than mine, as after the first half hour, when I had warmed up & removed my coat, the phone was in Trevor's back pack! I am much more cautious on the down hills, and probably only topped 20 mph! Which is almost slower than the speed (18mph) we clocked a young hare running up the long steep hill on Longstock Road today! Part of the route took us on the Imber Range Perimeter Path, above Dauntsey's School, near West Lavington, which is the same route we walked for challenge 1 – the 90 mile  White Horse Walk in early March.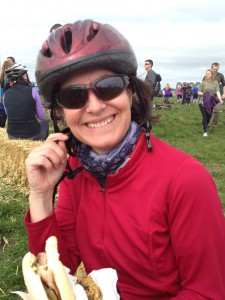 At the mid-way point we stopped for lunch. The event was well organised, and there was a great choice of refreshments, including bacon sarnies, flap jacks, hot and cold drinks – even seating was provided! I went for the healthy flap jack option, whilst Trevor succumbed to a bacon roll (they did smell very good!)
After a short break, as the sunshine cleared away the clouds, and we set of on the return journey. This section seemed to balance out the first half, and there were long winding downs, which, I have to admit I did enjoy & even completed some without touching the brakes (very brave!!). But it wasn't all down, and there were some steep ups, but I like the challenge of ups, especially as I am now much better at just putting it into the lowest gear, taking my time, and peddling with minimal effort.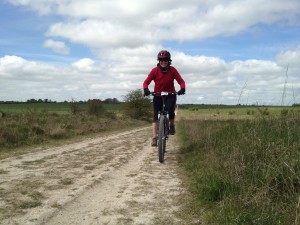 The bike ride took us 3 hours (excluding lunch stoppages), which I was very chuffed with, as I had generally been much slower on my training rides, I think the main reason for this was the improved quality of the bike (thanks Kate!) You can see the full route here.
I spent a lot of time in my twenties cycling on road (a Roady!), and poo pooed mountain biking (probably out of fear!). I have to admit I now probably enjoy off road more, and have even invested in a decent mountain bike of my own so I can continue with this new hobby.
This post is a tad late, mainly because I have been very distracted with a domestic project, which should probably have been another one of my 12 challenges! After finally agreeing an insurance settlement (John set the kitchen on fire in 2011), we have been living in chaos for the last 10 days. The old kitchen has been ripped out and the new one fitted; as this included tiling the floors of both the kitchen and the kids room, the rest of the downstairs has virtually been un-livable as there is so much 'stuff' in every room! My parents have been the saving grace, as I have been able to feed the kids round at theirs most days. John (the cause of the chaos) has escaped to Athens on a work trip ………
My next challenge is a 4km wild swim at  Lulworth Cove. I will need to spend some time in the pool soon, to build up my water stamina, then find some suitable open water to get used to the cold, and get to grips with the swimming technique, which is very different! All advice welcome.
Share
Facebook
GooglePlus