Last weekend we spent a lot of time putting the tent up and taking it down. It was all reasonably straight forward until you tried to do it with gloves on, then things became a bit trickier, and that was in a warm conference room with no wind, on a good nights sleep!
The tent has a square inner, which is the main living compartment. This has to be held onto at all times when the tent is being put up; if you accidentally let go of it, it will fly off like a kite in the lightest of winds …. not very clever to be homeless in the arctic!
The inner is covered by a protective outer, which also provides essential cooking and logistical space.The outer is attached to the inner at the corners and in the middle. The whole tent is then 'pegged' into the snow with our skis.
We are given all our equipment in October. This in theory gives us enough time, as teams, to get efficient at putting the tents up and down, using the stoves and refilling the fuel bottles.
Good tent management is essential!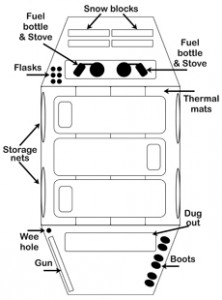 The 'cook' is responsible for providing all meals and filling the flasks. As soon as the tent is erected, they start getting the tent organised and the stoves lit. The rest of the team, secure the tent by piling snow on the black tent flaps and fastening down the pulks (sledges). A trench is dug out in the entrance to ease boot usage. Once inside the tent the wind suit and middle layers are removed and hung up to dry. I am assured that once both stoves have been lit it doesn't take long to make the tent all warm, it is certainly very cosy! Each trekker is allocated a storage net to keep all their belongings organised, and within easy reach. It will be good to bring these organisational and regimental skills back into the office; I am sure I have more clutter and filing places than I really need to run the business as efficiently as I could!
I have upped the training this week. The blue skies and sunshine have been a big motivator! I walked 12 miles on Thursday, had a very intense Pilate's class on Friday and walked 26 miles on Saturday. The long walk with Lucy and Rosie was part of our training for the Moonwalk in May. We found the walk much easier than the 18 miles we did in January, which is good news, but we were all very tired and took things relatively easy today. I am a little worried about completing the Nijmegen Marches in July, which is 4 days of 26 miles…..
Share
Facebook
GooglePlus