I have just spent a brilliant weekend in Yatton, Somerset with other Polar Racers learning all about the clothing system we will be using next year. I am reliably informed that it is not unusual for temperatures to be  minus 52°C . That's before wind chill!
We will be using  a simple layered system. The base layer has to be nice and soft; for us girls that's merino wool,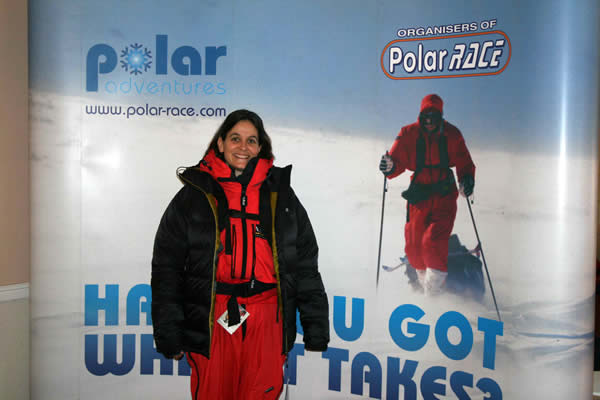 apparently our legs are more sensitive to the cold than the boys – they get synthetic (but just as soft) Helly Hanson. These garments will only be worn to race in on the very coldest days ….  just how cold is coldest ? A  comfortable mid-layer, is our core walking gear, most likely to be worn everyday of the race (very smelly after 4 weeks!)
Over the mid layer we will wear a multi pocketed fleece jacket. The pockets are for items that will be needed regularly, sun cream, lighter, multi tool etc. We also get fleece lined pants, but these, along with tent boots (posh slippers) are for leisure wear in the tents. Not sure we get much leisure time ….
A lightweight one piece wind suit is worn over the warm layers. It has many zips, which are useful for venting. When we are walking / skiing, the ideal scenario is to try and keep warm without getting hot and to produce as little sweat as possible, as this freezes as soon as you stop. The suits have further storage pockets for gloves, hats etc. Organisational and locational management of items is key and must be learnt quickly for efficient daily routines . This will be a major challenge, as I struggle to keep my large desk orderly on a daily basis. At least I won't be multi tasking as well! The suit also has a bum-flap, this along with the 'she-wee' will take a bit of getting used to.
We get various types and combinations of gloves, hats, goggles, sunglasses, balaclavas etc to use  as required in various weathers. Different people prefer different set ups and it comes down to personal choice! Our feet are kept toasty in Baffin Boots, which have a removable liner. These are extremely cozy and comfortable, and if I have not been too heavy on my feet will be ideal for any supporting duties on the rugby or hockey pitch on my return. The final piece of kit is a light weight, heavy duty down jacket. We wear these when stopping for our hourly, refuel breaks (5 mins max), setting up and breaking camp. It is not intended to be used for racing when we are pulling the sledges, as it would increase the rate of perspiration significantly!
It was great to spend some time with all the racers, develop the bonding process and talk to potentail team mates!
Share
Facebook
GooglePlus